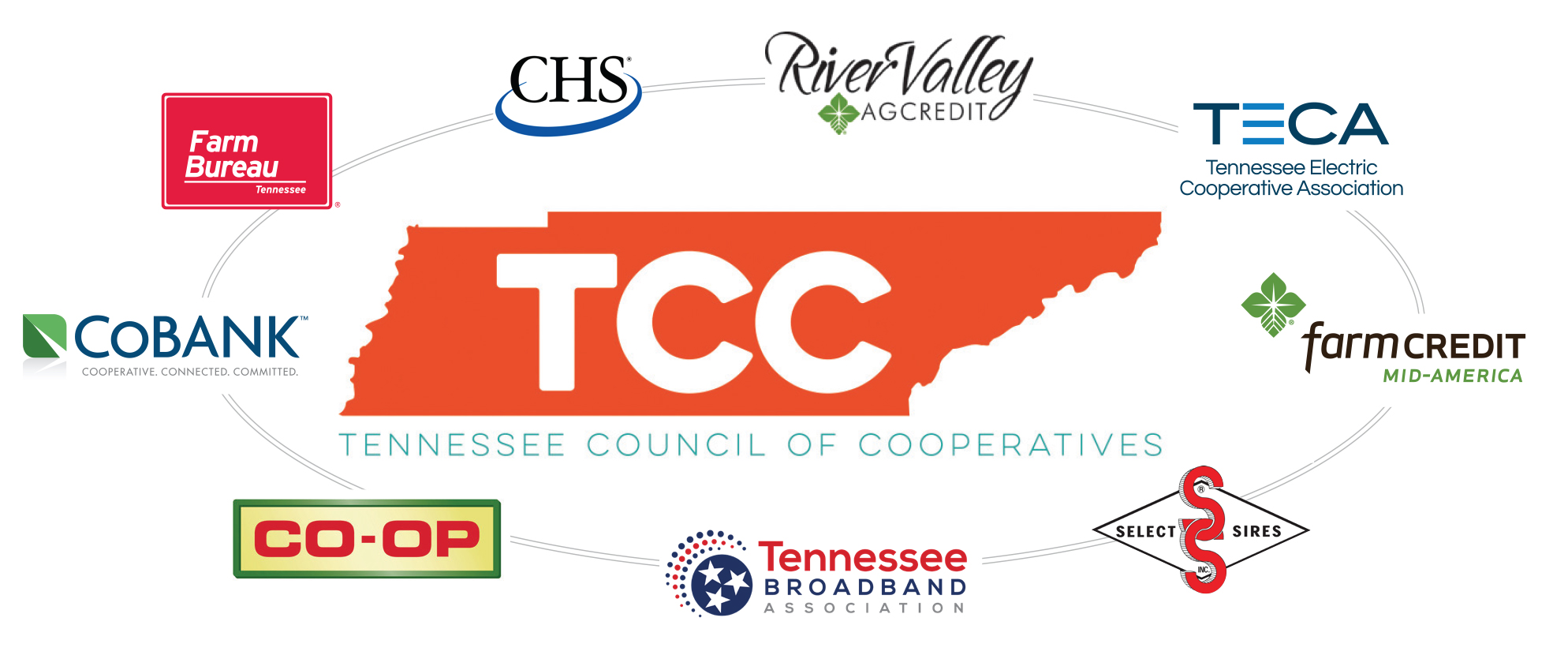 The Tennessee Council of Cooperatives (TCC) is a non-profit organization established to promote "the cooperative way of business" through education and promotion of all types of cooperatives.
Tennessee Council of Cooperatives Board of Directors – (February 2020)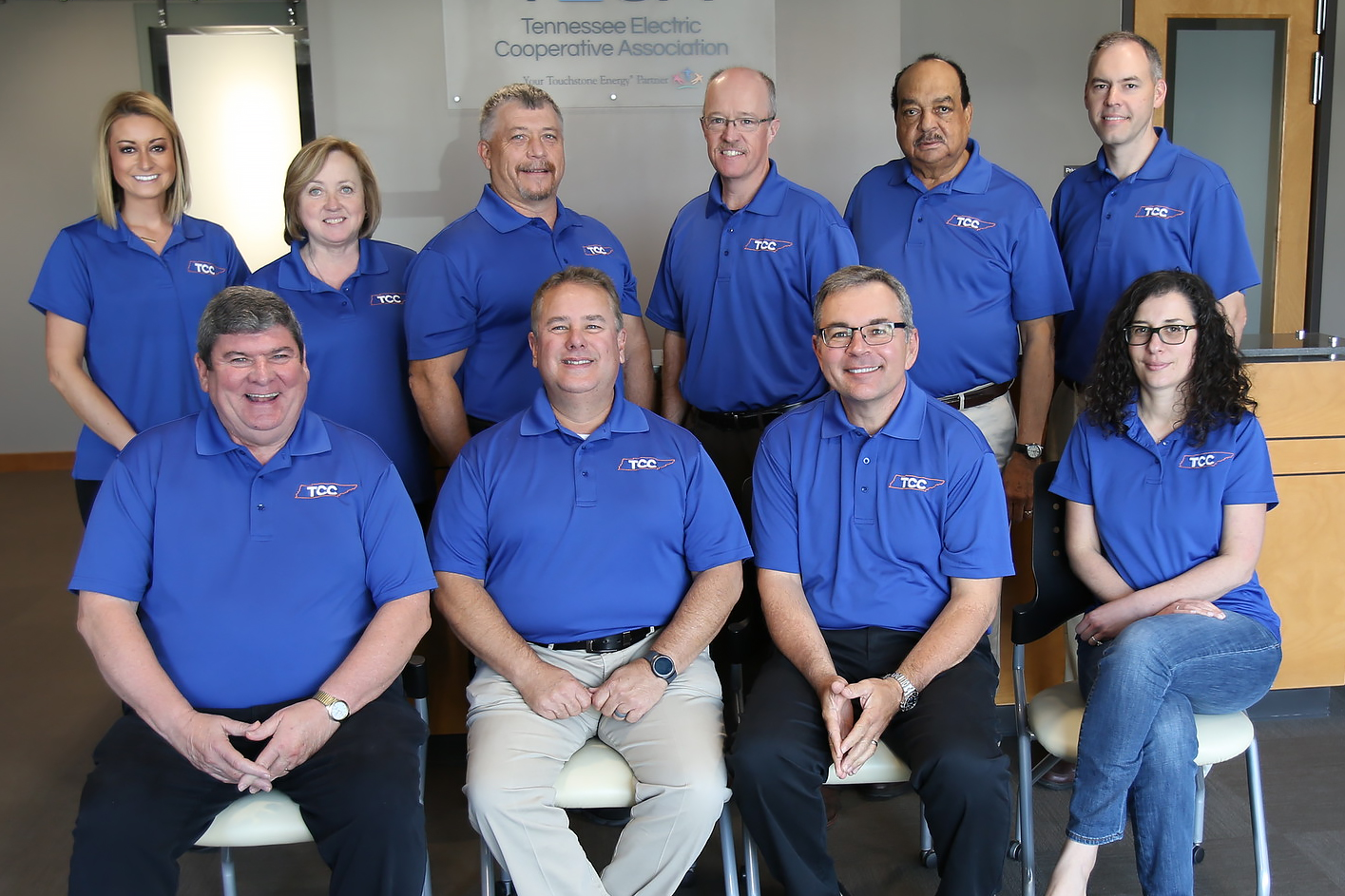 Paul "Buck" Binkley, President Promotion and Outreach;; Tennessee Farmers Cooperative; P. O. Box 3003, LaVergne, TN 37086; work, 615-793-8505;  e-mail, pbinkley@ourcoop.com; term expires 2/2020
Charlie Boring, President, BTC Fiber, P. O. Box 609, Pikeville, TN 37367; work, 423-447-2121; e-mail, cboring@bledsoe.net
Todd Blocker, Vice President; Promotions and Outreach; Tennessee Electric Cooperative Association; P. O. Box 100912, Nashville, TN 37224; work, 615-515-5510; e-mail, tblocker@tnelectric.org
Mike Partin, Vice President, Policy and Operations, Sequatchie Valley Electric Cooperative, P.O. Box 31, South Pittsburg, TN 37380; work, 423-837-5027; e-mail, mpartin@svalleyec.com
Dan Strasser; Vice President, Education Tennessee Farm Bureau Federation, P.O. Box 313, Columbia, TN 38402-0310; work, 931-388-7872, extension 2216; e-mail: dstrasser@tfbf.com
Scott Lewis, Secretary/Treasurer; Farm Credit Services Mid-America, 710 Henslee Dr., P.O. Box 547, Dickson, TN 37055 work, 615-446-5133; e-mail, scott.lewis@e-farmcredit.com
Roberta Smith, Administrative Secretary/Treasurer, P.O. Box 609, Pikeville, TN 37367; home, 423-881-3081; e-mail, smithr@bledsoe.net
Lane Davis, River Valley AgCredit, P. O. Box 3174; Cleveland, TN 37774; work, 423-479-8553; e-mail, ldavis@rivervalleyagcredit.com
Jimmy Ogilvie Tennessee Farmers Cooperative, P. O. Box 3003, LaVergne, TN 37086; work, 615-793-8453; e-mail, jogilvie@ourcoop.com
Ashley Macy, CoBank; 1601 UPS Drive, Suite 102, Louisville, KY 40223; work, 502-421-5671; e-mail, amacy@cobank.com
Laura Trammel, Davidson Farmers Cooperative, 3511 Dickerson Road, Nashville, TN 37207; work, 615-860-4774; e-mail, ltrammel@davidsoncoop.com
Randy Stubblefield, United Farm, and Home Cooperative, 200 Eddy Lane, Franklin, TN 37064; work, 615-790-6100; e-mail, psullivan@dicksonfarmers.com
Eston Glover, Hopkinsville Elevator Company, Inc., P.O. Box 767, Hopkinsville, KY 42241; work, 800-488-5191 e-mail, eston@hop-elevator.com
Dr. Joey Mehlhorn, University of Tennessee Martin, School of Agriculture and Home Economics, 251 Brehm Hall, Martin, TN 38238-5008; work, (731) 881-7250; e-mail,  mehlhorn@utm.edu
Dr. Robert A. Cohen, Braintree Business Development Center, 201 East Fifth Street, Mansfield, OH 44902; work, 419-525-1614; e-mail, bcohen@braintreepartners.org
Mr. Sammy Comer, Tennessee State University, School of Agriculture and Consumer Sciences, 3500 John A. Merritt Blvd., Nashville, TN 37209-1561; work, 615-963-7561; e-mail, scomer@tnstate.edu
Dr. Darron L. Smith, Tennessee Technological University, School of Agriculture, Box 5034, Cookeville, TN 38505; work, (931) 372-3012; e-mail, darronsmith@tntech.edu
Justin Gardner for Dr. Jessica Carter, Middle Tennessee State University, School of Agribusiness and Agriscience, P.O. Box 5, Murfreesboro, TN 37132; work, 615-898-2169; e-mail, jessica.carter@mtsu.edu; justin.gardner@mtsu.edu.
Dr. Donald Sudbrink, Austin Peay State University, Department of Agriculture, P. O. Box 4607, Clarksville, TN 37044; work, (931) 221-7272; e-mail, sudbrinkd@apsu.edu
Troy Dugger, Program Coordinator II, Center for Profitable Agriculture, Ridley 4-H Center Office, 850 Lion Parkway, Columbia, TN 38401. email: pdugger2@utk.edu, office: 931-486-2777 for Rob Holland, University of Tennessee Extension Service, Middle Tennessee Experiment Station, P. O. Box 1819, Spring Hill, TN 37174-1819; work, 931-486-2777; e-mail, rwholland@utk.edu
Adia Holland, Rural Development, U.S. Department of Agriculture, 3322 West End Avenue, Suite 300, Nashville, TN 37203; work, 615-783-1300; e-mail, adia.holland@tn.usda.gov
 Jessy Shanks for Dr. Caula Ann Beyl, University of Tennessee, Brehm Animal Science, 2506 River Drive, Knoxville, TN 37996; work, 865-974-4160; e-mail, jharri50@utk.edu
Keith Harrison, Tennessee Department of Agriculture, Assistant Commissioner, Business Development Divsion, Ellington Agricultural Center, 424 Hogan Road, Nashville, TN 37220; work, 615-837-5152; e-mail, keith.harrison@tn.gov
Web Links for Board Members
Tennessee Electric Cooperative Association (TECA)tnelectric.org
Tennessee Farm Bureau Federation tnfarmbureau.org
Tennessee Farmer's Cooperative Our Co-op
Tennessee Tech University (TTU) School of Agriculture tntech.edu
United States Department of Agriculture (USDA) Rural Development-Tennessee usda.gov
UT College of Agricultural Sciences and Natural Resources tennessee.edu
UT Martin College of Agriculture and Natural Resources utm.edu
 Tennessee State University tnstate.edu
Member Cooperatives (as of January 1, 2020)
AG 1 Farmers Cooperative
AgCentral Farmers Cooperative
Anderson Farmers Cooperative
Appalachian Electric Cooperative
Bedford Moore Farmers Cooperative
Ben Lomand Telephone Cooperative
Benton Farmers Cooperative
Bledsoe Telephone Cooperative
Caney Fork Electric Cooperative
Carroll Farmers Cooperative
Chickasaw Electric Cooperative
Claiborne Farmers Cooperative
CoBank
Coffee Farmers Cooperative
Cumberland Electric Membership Corporation
Cumberland Farmers Cooperative
Davidson Farmers Cooperative
DeKalb Telephone Cooperative
Dickson Farmers Cooperative
Duck River Electric Membership Corporation
Farm Credit Services of Mid-America
Fayetteville Public Utilities
Fentress Farmers Cooperative
First Farmers Cooperative
Forked Deer Electric Cooperative
Fort Loudoun Electric Cooperative
Franklin Farmers Cooperative
Gibson Electric Membership Corporation
Gibson Farmers Cooperative
Grainger Farmers Cooperative
Greene Farmers Cooperative
Hancock Farmers Cooperative
Hawkins Farmers Cooperative
Henry Farmers Cooperative
Highland Telephone Cooperative
Holston Electric Cooperative
Humphreys Farmers Cooperative
Jefferson Farmers Cooperative
Knox Farmers Cooperative
Lawrence Farmers Cooperative
Lincoln Farmers Cooperative
Macon Trousdale Farmers Cooperative
Marion Farmers Cooperative
Marshall Farmers Cooperative
Maury Farmers Cooperative
Meriwether Lewis Electric Cooperative
Middle Tennessee Electric Membership Corporation
Mid-South Farmers Cooperative
Montgomery Farmers Cooperative
Mountain Electric Cooperative
North Central Telephone Cooperative
Obion Farmers Cooperative
Perry Farmers Cooperative
Pickwick Electric Cooperative
Plateau Electric Cooperative
Powell Valley Electric Cooperative
River Valley Ag Credit
Robertson Cheatham Farmers Cooperative
Rutherford Farmers Cooperative
Scott County Telephone Cooperative
Scott Morgan Farmers Cooperative
Sequachee Valley Electric Cooperative
Sequatchie Farmers Cooperative
Smokey Mountain Farmers Cooperative
Smith Farmers Cooperative
Southeast Select Sires
Southeastern Farmers Cooperative
Southwest Tennessee Electric Cooperative
Sumner Farmers Cooperative
Tennessee Electric Cooperative Association
Tennessee Farm Bureau Federation
Tennessee Farmers Cooperative
Tennessee Valley Electric Cooperative
Tri-County Electric Membership Corporation
Tri-State Electric Membership Corporation
Tri-State Growers, Inc.
Twin Lakes Telephone Cooperative
Union Farmers Cooperative
Upper Cumberland Electric Membership Corporation
Volunteer Energy Cooperative
WK&T Telephone Cooperative
Warren Farmers Cooperative
Washington Farmers Cooperative
Wayne Farmers Cooperative
Weakley Farmers Cooperative
White Farmers Cooperative
Williamson Farmers Cooperative
Wilson Farmers Cooperative